A sell-out audience laughed till they pished themselves last month when the Melbourne doctor did his schtick at the club. Young and old,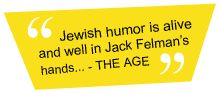 including celebrity guests like Henri Szeps raved about his performance as the loveable krechtsing (whineing) Jewish mama who is 'tzu git' (too good!) for her family.

Felman, whose full-length plays include Laugh Till You Cry and its sequel Don't Teach Me, I'm Perfect, writes bittersweet comedies that deal with issues of children of Holocaust survivors like himself and the universal experiences of second generation migrants.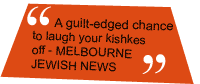 But The Bubba Unplugged is his party-piece, a two hour comic tour-de-force where the popular madcap and moustachioed grandma figure lays into one and all... starting with her own family!

Felman has appeared on many Melbourne stages and at dozens of private functions as well as on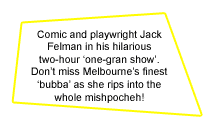 channel 31.

"This show is a laugh-a-minute and I can guarantee that everyone will identify with the Bubba," says Felman.

"I guess what I am trying to do is preserve the humour (intentional and unintentional!) that migrants brought to our community before it's lost in 20 or 30 years time."